container cargo
When displaying the container cargo we can monitor the last executed processing.
The button Reset path cancel all operations previously made order, then sets the ZERO value in the container cargo column of all pallets.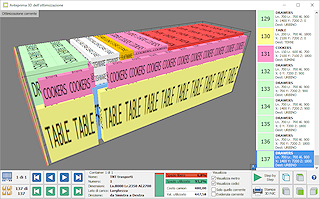 container cargo
container cargo , in the first image you can see the final result, the full load. While in the second image we selected 4 steps that show how the load is completed.
The intuitive interface will help container cargo during use. You will find the program easy to use. In addition to any section you will have an online guide that will solve quasliasi doubt.
Go to the official website